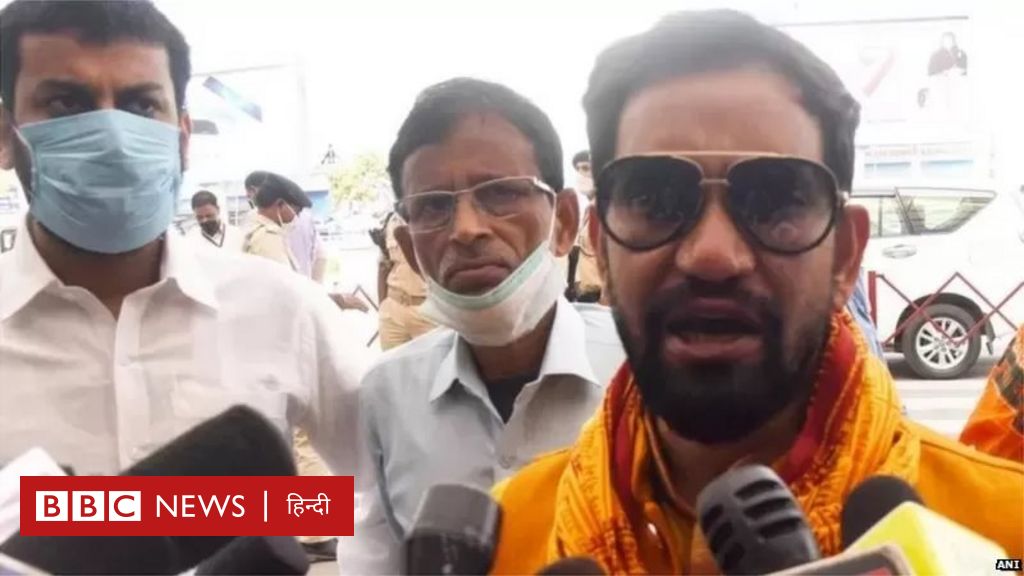 After reading the title of the story, do you also think there is a mistake in writing in Hindi?
The title is written in Bhojpuri, which has no separate script of its own.
It is spoken in more than 15 countries in the world, including Mauritius, Suriname, Fiji, British Guiana, Trinidad and Tobago, Holland, Nepal and many islands in South America.
States like Bihar, Jharkhand, Uttar Pradesh, Madhya Pradesh and Chhattisgarh have more Bhojpuri speakers than any other state in India.
At the same time, many people who have gone to cities like Delhi, Mumbai, Kolkata, Surat, Ahmedabad in search of work speak Bhojpuri.
In various speeches in Parliament, the number of speakers of Bhojpuri in India by different MPs is said to be around 15 crore.
2011 though According to the Census of India report, about 50 million people speak Bhojpuri.
Since 1960, there has been a demand to include this language in the 8th Schedule of the Constitution of India till date.
18 individual bills were filed regarding this issue.
Tamil speaking population in 2012 Acknowledging the demand of MPs Jagathambika Paul, Raghuvansh Prasad Singh and Shailendra Singh, Home Minister P. Chidambaram assured the House in Bhojpuri, "Hum rau sab ke bhavana samdani".
A clip of his swearing-in made headlines at the time. But the wait for Bhojpuri is not over yet.
After 2012, 2022 has arrived.
The ruling leaders are now in the opposition and the leaders who were in the opposition are now in the ruling party.
However, the wait for Bhojpuri continues till now.
Today the story is waiting for Bhojpuri.
Azamgarh MP Dinesh Lal Yadav alias Nirhua, in his maiden speech in Parliament, reiterated his demand for inclusion of Bhojpuri in the 8th Schedule of the Constitution.
His entire speech was in Hindi as Bhojpuri was not allowed to be used in Parliament.
At the end he ended his speech by saying 'Jai Bharat Jai Bhojpuri'.
Even after taking office as MP, he raised the same slogan.
Because of this, no one was surprised when he raised the demand for Bhojpuri in his maiden speech.
Before Nirhua, everyone from Uttar Pradesh Chief Minister Yogi Adityanath to former Congress leaders and now BJP MPs Jagathambika Paul, Raghuvansh Prasad and Ravi Shankar Prasad – raised the issue in Parliament.
8th Schedule to the Constitution
Sindhi was added in 1967.
Nepali, Konkani and Manipuri languages ​​were added in 1992.
The demand to add 38 different languages ​​to this list continues even today, Bhojpuri being one of them.
Bhojpuri speaking people in India
"The history of Bhojpuri is about 1000 years old. The words or sounds of Bhojpuri are found in the poems of poet Gorakh Pandey. There is a long tradition. Saints, on which Bhojpuri poems were written. See echo and understanding.
Bhojpuri is used in eastern Uttar Pradesh and western Bihar. This language is also spoken in many parts of Chhattisgarh and Madhya Pradesh.
Workers migrated from these areas across the country and the world at one time. Be it Delhi, Mumbai, Kolkata, Chennai or the big cities of Punjab, Tamil Nadu, Kerala, Gujarat, Bhojpuri speaking workers are present in large numbers. People from the Bhojpuri region have also settled in Mauritius, Suriname, Fiji and British Guiana.
A language in which a history of an advanced variety spoken by between 15 and 200 million people in the country and also abroad has been written, that language should be included in the 8th Schedule.
It is often said about Bhojpuri that the language does not have its own script or alphabet.
Professor Sadanand Shahi says, "This question itself is wrong. Bhojpuri had its own script, written in the Khaiti script, which was very similar to the script of today's Gujarati. At that time, people made a plan to advance Hindi through the Khaiti script of Bhojpuri.
Bhojpuri is very affected by this. Many literatures written in Gaithi script are scattered here and there in temples and monasteries. Later Rahul Sankrityayan proposed that Bhojpuri should be written in Devanagari and since then Devanagari script has been used to write Bhojpuri.
According to Professor Shahi, there is no mutual relationship between writing and language.
Reasons for inclusion of a language in the 8th Schedule
However, just because a language does not have a font is not an argument for not including it in the 8th Schedule. This argument of how many people speak a particular language in India is also not correct.
The Maithili language is included in the 8th Schedule, while its script is Devanagari. Similarly, the Dogri speaking population in India is only a few hundred thousand, but it is included in the 8th Schedule.
According to the Central Government, there is no basis to include any language in the 8th Schedule of the Constitution.
It is argued that it cannot, as the development of dialects and languages ​​is a continuous process influenced by social, economic and political developments.
The Indian government also tried twice for this. The Bahwa Committee was formed for the first time in 1996 and the Sitakanth Mohapatra Committee in 2003. But both times things didn't work out.
Why Bhojpuri doesn't get that respect
Speaking to BBC Hindi, Professor Nithyanand Tiwari of Delhi University says he does not understand why Bhojpuri has not been given the honor of being included in the 8th Schedule till date.
He says the work done by Bhojpuri to make 'Bharat Pao' is amazing. This feeling would have been incomplete without Bhojpuri. This is the power of Bhojpuri. Songs and music of Bhojpuri language contributed a lot in the freedom revolution. Leaders of that time like Rajendra Prasad and Jagjeevan Ram spoke Bhojpuri. If there had been respect among the rulers of India for the contribution of these people in the freedom struggle, Bhojpuri language would have received this respect."
And he says, "In my understanding, Bhojpuri speaking areas are considered backward areas. This is the opinion of some people. People who think that language spoken in backward areas is backward. The language is very rich. Literary texts are not written. .Literature in it to teach in BAMA. Many people think no. Now many places Bhojpuri is included in the subject. Maybe for these reasons Bhojpuri is included in 8th schedule. Governments don't think about it.
In 2017, when Nitish Kumar was Chief Minister, the Bihar Cabinet requested the Center to include Bhojpuri in the 8th Schedule. In 2022, the Bihar government reiterated its demand.
Yogi Adityanath raised this issue in the Lok Sabha even though he was a BJP MP in 2016.
Nitish Kumar, who until recently ruled Bihar with the BJP, could not get his request from the Centre.
Yogi Adityanath Having been the Chief Minister of Uttar Pradesh for two terms, he did not approach the central government in this matter.
On the role of leaders in honoring the Bhojpuri language, Professor Nithyanand Tiwari said, "Leaders may raise demands from various forums, but they themselves do not speak the language in public meetings. Even among those who do. Bhojpuri does not have it. It may be due to respect or some political reason, because of which Bhojpuri does not get that respect."
On the contribution of films to the promotion of Bhojpuri, he further said, "Bhojpuri cinema has destroyed the Bhojpuri language. Only obscene scenes and obscene dialogues are put before people, which is only obscenity in Bhojpuri. Language.
He believes that recently some artistes have also contributed very positively to the promotion of Bhojpuri, in which he took the name Neha Singh Rathore. According to him, folk singers have done a lot for the promotion of Bhojpuri.
Even during an interview with BBC, Neha Singh Rathore said that she writes and sings songs in Bhojpuri because of her success in Bhojpuri. She considers her language as 'mother'. Due to this we are doing our best to help the language development.
1 December 2016 On the initiative of the Government of Mauritius, UNESCO has included the Geet Kawai tradition of Bhojpuri in the World Indigestion Cultural Heritage List.
What happens if we add it to the 8th table?
The inclusion of Bhojpuri in the 8th Schedule will benefit not only Bhojpuri but also Hindi.
According to Professor Shahi, under the colonial scheme, those who spoke and understood district languages ​​were described as poor and backward.
Adding those languages ​​to the 8th schedule will reduce the 'inferiority' feeling that has developed among their users.
After taking cognizance of the idea of ​​the Union Public Service Commission, language may be allowed as an alternative medium in national level and other higher central service examinations.
Apart from this, the Sahitya Akademi may, at its discretion, introduce awards and special incentive schemes for these languages.
The decision whether to include Bhojpuri in the 8th Schedule or not rests with the Ministry of Home Affairs.
"Evil zombie enthusiast. Unapologetic foodaholic. Friend of animals everywhere. Reader. Devoted bacon practitioner."