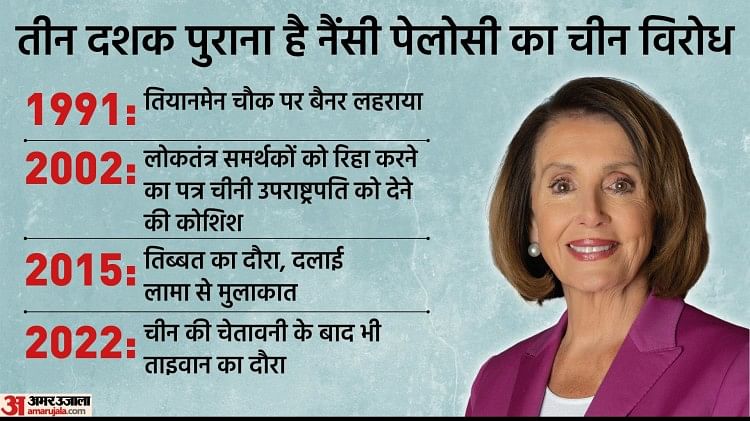 08:39 PM, 05-Aug-2022
US halts ICBM 'Minuteman III' test
The United States has postponed a long-planned intercontinental ballistic missile test following China's anger over House Speaker Nancy Pelosi's visit to Taiwan, a senior official said. This week's decision to postpone a test flight of the unarmed Minuteman III intercontinental ballistic missile comes after China's People's Liberation Army (PLA) began military exercises around Taiwan in response to Pelosi's visit to Taipei. China claims Taiwan as its own country and vows to integrate it into the Chinese mainland. The Minuteman III ICBM test scheduled for this week has been rescheduled, John Kirby, the National Security Council's strategic communications coordinator, said Thursday.
08:05 PM, 05-Aug-2022
Nancy Pelosi said China cannot isolate Taiwan
China cannot isolate Taiwan by preventing US officials from going there, US Speaker Nancy Pelosi said in Tokyo on Friday. Pelosi said Beijing has tried to isolate Taiwan, including preventing the self-ruled island from joining the World Health Organization. China may try to prevent Taiwan from traveling to or participating in other places, but it cannot isolate Taiwan by preventing us from traveling there. Pelosi made the comments while defending her visit, which has heightened tensions in the region.

07:22 PM, 05-Aug-2022
China advises India-Pakistan talks to resolve dispute
India and Pakistan should resolve their differences on the Kashmir issue peacefully through dialogue and consultation. China made this announcement on the third anniversary of the abrogation of the special status of the state of Jammu and Kashmir. In August 2019, the Indian government bifurcated Jammu and Kashmir as a union territory and abrogated the provisions of Article 370 of the Constitution, which granted special status to the former state. The Jammu and Kashmir Reorganization Bill was introduced in the Rajya Sabha on August 5, 2019 and passed on the same day. It was approved in the Lok Sabha the next day.

06:22 PM, 05-Aug-2022
China strikes back at America
China's Foreign Minister Wang Yi has said that the United States has no right to make the mistake of allowing another US speaker to visit Taiwan.

06:07 PM, 05-Aug-2022
Taiwan's Ministry of Defense said strict measures will be taken for security
Taiwan's Ministry of Defense reported that Chinese aircraft had violated its airspace 68 times. The ministry has warned that Taiwan will take strict measures considering its national security. Taiwan says China's actions have seriously damaged the status quo.

05:48 PM, 05-Aug-2022
Four-day Chinese military exercise against Taiwan continues
China has announced four days of military exercises since Thursday, in which the Chinese military fired ballistic missiles into the Taiwan Strait in a major show of force. Beijing engages a nuclear-powered submarine in its aircraft carrier test drills.

05:00 PM, 05-Aug-2022
Taiwan's Defense Ministry said – 13 Chinese warships and 68 aircraft crossed the waters.

04:01 PM, 05-Aug-2022
China has stopped negotiating with the US on many issues
China has suspended talks with the U.S. on climate change, military issues and counter-narcotics in response to Pelosi's visit to Taiwan, according to the AP.

03:31 PM, 05-Aug-2022
Now China is pointing the finger at Japan
Chinese Foreign Ministry spokeswoman Hua Chunying said during a regular briefing on Friday that recent statements by Japanese officials about current tensions in the Taiwan Strait were an attempt to justify mistakes.
01:47 AM, 05-Aug-2022
China imposes sanctions on Nancy Pelosi
China on Friday banned US House Speaker Nancy Pelosi from visiting Taiwan. AFP news agency published the news citing the Chinese Ministry of Foreign Affairs. Despite China's threats, Pelosi made a one-day visit to Taiwan last Saturday. This has greatly upset China.
02:04 PM, 05-Aug-2022
Japanese Prime Minister Kishida calls Pelosi
Japanese Prime Minister Fumio Kishida said Friday that China's military drills targeting Taiwan present a "serious problem" that threatens regional peace and security. In fact, five ballistic missiles launched by China as a drill landed in Japan's exclusive economic zone.
01:11 PM, 05-Aug-2022
China has the second largest defense budget
China currently has the second largest defense budget after the US. Due to this, China is very advanced in world war weapons.
12:09 PM, 05-Aug-2022
China invited ambassadors from European countries
Infuriated by US Speaker Nancy Pelosi's visit to Taiwan, China has now summoned ambassadors from seven European Union countries. According to reports, China objected to their shared statement. In fact, the statement said that the military exercise carried out by China on the Taiwan border on behalf of these countries is wrong and should be stopped immediately. China says this statement by European countries is interfering in our internal affairs.
11:15 AM, 05-Aug-2022
What is the difference between the population of China and Taiwan?
The width of the Taiwan Strait, which separates China and Taiwan, is only a few hundred kilometers. It is this gulf that separates China's 1.39 billion people from Taiwan's 23.6 billion people. That is, based on the population difference, China's strength is 65 people compared to one person from Taiwan.
09:41 AM, 05-Aug-2022
China has flown 100 fighter jets
Tensions seem to be rising between China and Taiwan. After launching the missile on Thursday, China has reportedly flown 100 warplanes over the Taiwan border. However, Taiwan also refused to back down. Earlier it was reported that 22 Chinese planes entered Taiwan's air defense zone.


"Evil zombie enthusiast. Unapologetic foodaholic. Friend of animals everywhere. Reader. Devoted bacon practitioner."