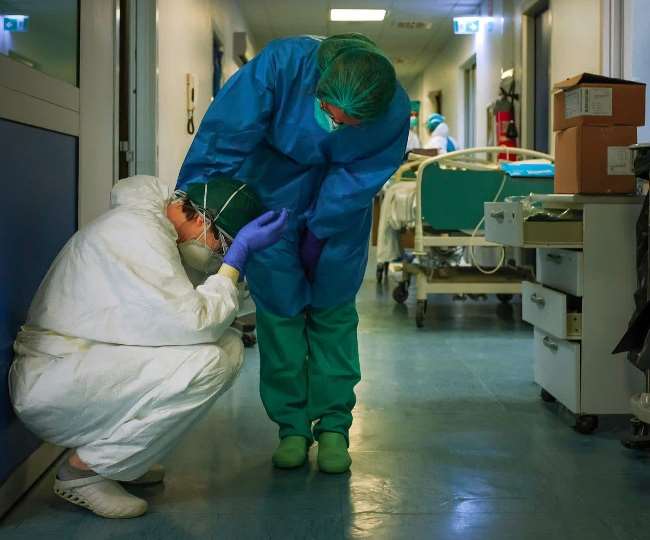 Washington, Agencies. The situation in many countries of the world is very bad due to corona infection. The situation is deteriorating, especially in European countries. Along with Britain, a new wave of corona is also seen in France. One lakh four thousand six hundred and eleven new corona cases were detected in a single day on Saturday in France. Meanwhile, figures for corona infection have not been reported in the UK, considering Christmas, but on Friday, 122,186 cases were reported. To bring the situation under control, the Boris Johnson government has tightened controls in many parts of the country.
Strict restrictions in Wales
According to the PTI news agency, new strict regulations came into effect on Sunday in Wales, Scotland and Northern Ireland. Nightclubs in Wales will be closed from Sunday and will be open to a maximum of six people in pubs, restaurants and theaters. A maximum of 30 people will be allowed for indoor events, while the limit is set at 50 for outdoor events.
Strict rules in Scotland and Northern Ireland
Large events in Scotland require a physical distance of one meter. Attendance at indoor events is limited to 100 people. The limit for outdoor events is set at 500 people. Nightclubs will be closed for the first three weeks from Monday. Nightclubs are also closed in Northern Ireland. Indoor events and dancing are prohibited. Only six people or 10 members of the same family will be allowed in the indoor setting from Monday.
Plan B was implemented in the UK
Prime Minister Boris Johnson and his cabinet are expected to review the situation on Monday and decide whether restrictions are needed anywhere else in the UK. Currently, Plan-B is in effect in this area, under which it is mandatory to show masks and Covit-19 vaccination certificates at home, at work and in public places.
968 people were killed in Russia
Corona infestation continues in Russia. In the last 24 hours, 968 people have died from the infection, and 23,721 new corona cases have been reported. As a result, the death toll in Russia rose to 10,392,020 and the death toll to 304,218.
Cases also began to rise in China
Corona vulnerabilities are also on the rise in China. In China, 206 new corona cases were reported in a single day, including 158 local infections. Authorities are trying to control the epidemic. Currently, 2,011 people in China are affected by corona, and the condition of 9 of them is said to be critical. In China, 1,01,077 people have been infected with corona so far, and 4,636 have died.
1,000 flights have been canceled in the United States
The fun of the Christmas holidays is occupying the United States. Airlines also canceled hundreds of flights on Saturday. Airlines have blamed a shortage of staff for the Covit-19. About 1,000 flights were canceled in the United States on Saturday. As many as 690 flights were canceled on Friday, according to FlightAware, a website that monitors flight movements. More than 250 flights have already been canceled on Sunday.
1,04,611 cases were detected in France
In France, 1,04,611 people were diagnosed with coronavirus in a single day on Saturday. According to the news agency AP, the pressure on hospitals is also increasing as the cases of Covit-19 and Omigron are on the rise in France. This is the situation where 90 percent of adults in France are vaccinated. In addition, about 40 percent of the French population is given a booster dose. "We are very depressed," said Corvez, head of the ICU in Marseille. Health workers are tired of these conditions. Many health workers have been affected by Omicron, while many have left the industry due to extreme stress.
"Evil zombie enthusiast. Unapologetic foodaholic. Friend of animals everywhere. Reader. Devoted bacon practitioner."