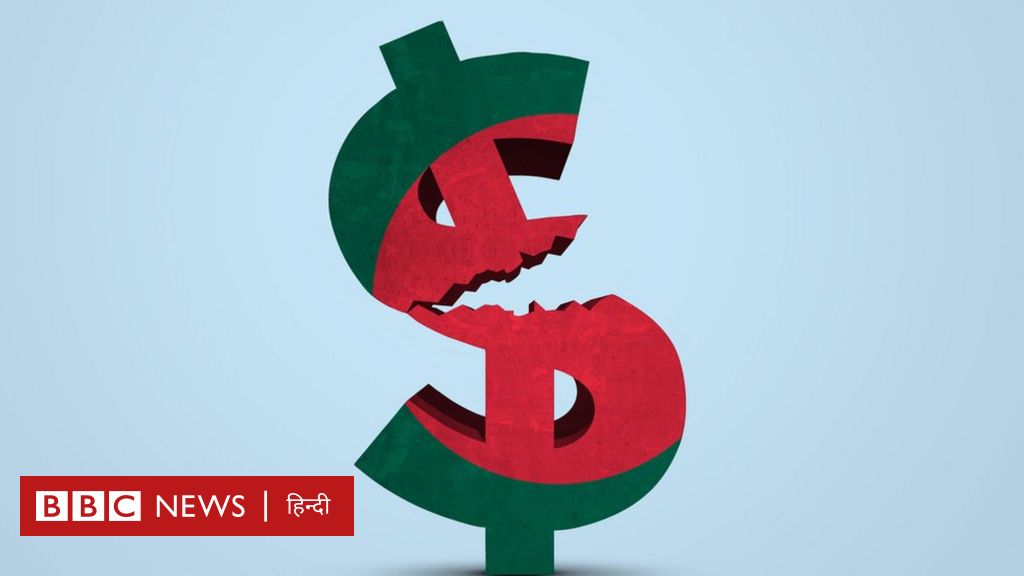 Saidul Islam
BBC News Bangla
Over the past few months in Bangladesh, the effect of the dollar crisis, rising fuel and gas prices has started to show in some of the country's key industries and manufacturing.
Due to the dollar crisis, the Bangladesh Bank had imposed several restrictions on imports last year.
Due to lack of sufficient dollars, many commercial banks were unable to issue letters of credit for imports.
Due to this, the importers are in a lot of trouble.
Most of Bangladesh's economy is imported, from food grains to spare parts.
Factory owners are facing problems in procuring raw materials for these industries.
Along with this, due to increase in petrol and diesel prices, transportation and other expenses have increased.
Recently, due to the increase in the price of commercial gas, the production cost of industries has also increased.
Due to this, many manufacturing companies in the country are in trouble. On the one hand, their cost is increasing in the country and on the other hand, difficulty in importing raw materials has made it difficult to continue production.
Price may increase
Currently, 98% of essential medicines in Bangladesh are manufactured domestically.
The Government of Bangladesh considers the pharmaceutical industry as the main export item after the ready-made garment industry.
But 80 to 85 percent of the raw material required for this industry is imported from abroad.
Every year $1.3 billion worth of raw materials are imported for this industry.
Mohammad Ali, director of drugmaker Cosmo Pharmaceuticals, told BBC Bangla, "Many companies are unable to import raw materials on time. ,
Even after giving 100% margin, there is difficulty in getting Letter of Credit (LOC). Many importers are struggling to procure raw material and get the goods from the port on time. This is not the reason for banks. LOCs can be resolved. As a result, drug production has been affected in many companies."
Ali said that due to these reasons, the cost of production in pharmaceutical companies is increasing. Earlier, the price of raw materials imported from various countries, now due to the increase in the exchange rate of the dollar against the Bangladeshi currency, the cost of this material is also increasing.
Officials at the pharmaceutical company have told the BBC they currently have the raw materials in stock to continue production.
But in case of buying new raw material, difficulties will have to be faced. Meanwhile, despite negotiating with two banks, LOC could not be obtained.
Due to the rise in the cost of raw materials, the cost of medicines in Bangladesh has increased over the past year.
Traders have pointed out that drug prices may rise again due to the current increase in raw material prices, increase in gas and operating costs and the dollar exchange rate.
The cost of borrowing has increased
Cement, another major industry in the country, has also been affected, as has the pharmaceutical sector.
Traders report that production has been affected for a few days due to load shedding.
Due to gas crisis they could not generate electricity.
Apart from this, due to rise in the price of gas and fuel, their cost of production has increased.
Officials of the Bangladesh Cement Manufacturers Association (BCMA) said at a press conference last December that their borrowing costs had increased by 20 percent due to the appreciation of the dollar. Due to this there is capital crunch in front of this cement industry.
BCMA president Mohammad Alamgir Kabir said, "Earlier this year, they took LOC at the rate of Rs 86-87 per dollar to buy raw material. The same price was sold. They have to pay Rs 106. Rs 112 per dollar is the settlement. This has left many factory owners in dire straits for capital.
Alamgir Kabir said, "We are facing many problems in getting LOC for import of raw material. Many small producers are waiting for long time and are not able to get LOC from bank. Due to this there is stagnation in production in front of them."
Prices went up, sales went down
In Bangladesh, everything from automotive machinery to equipment used in agriculture and construction, molds for plastic products, nuts-bolts and bearings are manufactured locally. But for the past one year, this industry, like other industries, has been facing a crisis.
Shoban Saha, an official at a parts factory in Dhaka's Keraniganj, told BBC Bangla, "Even after the Russia-Ukraine war, the cost of raw materials started increasing rapidly. Now it has increased by more than 50 percent. Besides, due to the appreciation of the dollar, our costs have also increased. We are also forced to increase the cost of parts. But due to this the sales are now down.
Traders say that raw materials for this industry are mainly imported from China.
In many cases, various raw materials are imported into Bangladesh to manufacture auto parts, rice threshers, engineering machinery and various toys.
But for the last few months they have been forced to stop production due to non-receipt of LOC.
Abdul Razak, Chairman of Bangladesh Engineering Industry Owners Association, said that their production cost has increased due to the increase in the price of gas.
Due to the rise in the value of the dollar, the cost of raw materials has increased. Earlier, a container would come from China for a thousand dollars, but now it costs four thousand dollars. However, it is difficult to get LOC." Many factories are not producing properly because they cannot import raw materials. "
The group has 3,200 members in Bangladesh. But officials say there are more than 50,000 such companies across the country.
In the last financial year, the industry exported $790 million. But in the first six months of the current year, it managed to export only $260 million.
Traders are worried about the future
Traders associated with Bangladesh's leather industry say that although leather for the industry is collected from within the country, the chemicals required for its processing are imported from abroad. But, it has to go around banks like any other industry.
Due to the foreign exchange crisis, the Government of Bangladesh has decided to grant LOC on priority basis in essential commodities like food grains.
Apart from this, LOC will be preferred in exportable goods.
But actually the producers of food grains and exportable goods also face many problems in importing raw materials.
Bankers say the demand for LOC is increasing. But due to non-availability of foreign currency, it is becoming difficult to publish even if one wants to.
Bangladesh Tanners' Association General Secretary Mohammad Sakhawat Ullah told BBC Bangla, "Except for lime, salt and sulfuric acid, all other raw materials have to be imported from abroad. But now there is a lot of running to get it. An LOC. Many small traders fail to get LOC."
He said, "In our country, 60 to 70 percent skin is collected at the time of sacrifice. Before that the raw material has to be imported. But we see that only traders who import food grains for fasting are struggling to get LOC. We are worried about what to do in this situation. Due to lack of electricity and gas in the tannery, the problems of these traders have increased.
Book value to compete with the dollar
Amar Ekush Book Fair is going to start from February in Bangladesh. But due to paper crunch and price rise, the books are not being sold this year and the traders are worried.
People associated with the publishing and printing industry say that the price of paper in the market has almost doubled in the last one month. Even if you pay more money, you don't get quality paper.
Shyamal Pal, vice-president of the Bangladesh Book Publishers and Sellers Association told BBC Bangla, "The main task of publishing textbooks was completed a few days ago. The work is still going on. There is a shortage of paper. Many publishers are willing to pay higher prices. However, they are not getting the paper.
Usman Ghani of Upcoming Publications told BBC Bangla, "The paper should be bought at a very high price."
"The price of ream paper is double what it was three months ago. Now we can say that the price of paper is increasing every week. The price I had for printed books till July, after that the price should increase by at least 25%.
Ghani fears that the number of new books being released at the book fair this year may also decrease due to the rise in prices.
Publishers say that as the dollar has appreciated since last July, the price of the paper has also started to rise.
Basically two types of paper are used in Bangladesh. Light paper is used for printing or writing books.
This type of paper is produced entirely in domestic factories. Now there is a huge crisis in this matter.
On the other hand, calender, packaging or textile industries require heavier paper. It is imported from abroad.
Currently there is a crisis in the market for both these types of paper. The raw materials used in factories in Bangladesh are imported from abroad.
But since the value of the dollar has increased by one-and-a-half times, traders have to pay higher prices in advance for the imported pulp.
Due to this, capital crunch is faced by many entrepreneurs.
Apart from this, due to scarcity of dollars, banks are not willing to issue LOC for paper imports.
Shafiqul Islam Bhuyan, president of Bangladesh Paper Importers Association and director of FBCCI, told BBC Bangla in May 2022 that they have not been able to get the LOC for two months.
If you go to the bank, they refuse. Basically the market is affected by the dollar crisis.
"Evil zombie enthusiast. Unapologetic foodaholic. Friend of animals everywhere. Reader. Devoted bacon practitioner."