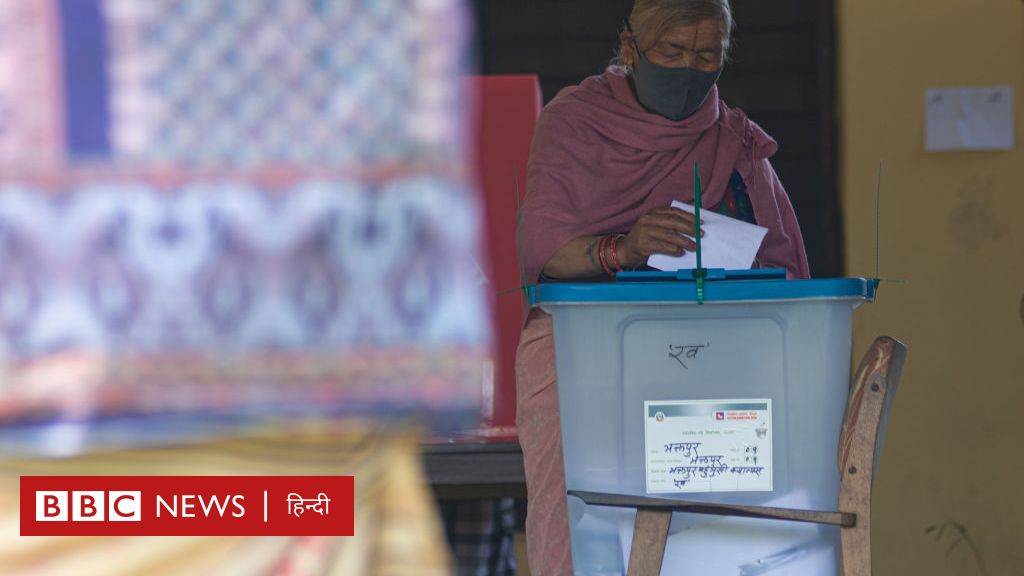 Nepal's central and provincial elections are held simultaneously on Sunday. Election Commission of Nepal has prepared a total of 10892 polling centers and 22227 polling stations for polling. This is the second election to be held in Nepal after the 2015 constitutional amendment.
These general elections in Nepal are also seen as a contest between old traditional leaders and new candidates.
Many professionals also try their hand at politics by contesting for Nepal's House of Representatives (Parliament) and Provincial Assemblies.
There are a total of 275 seats in the Nepalese Parliament, out of which 165 seats are elected under the First Past the Post (FPTP) system.
A total of 2412 candidates are in the fray for these 165 seats, 2187 men and 225 women. The remaining 110 seats will be elected under the proportional representation system.
Meanwhile, a total of 3224 candidates are in the fray for 330 seats in the provincial assembly, of which 2943 are men and 280 are women, with one candidate declaring his gender as other.
Members are elected through FTPP system for 330 seats and proportional representation system for remaining 220 seats.
The number of seats which party wins after Sunday's vote will determine the number of seats it gets in parliament and assemblies under the proportional representation system.
A wave of new candidates
Many new faces have entered Nepali politics this time. They have left professional fields like doctor, engineering, journalism and come with the intention of doing something new in politics.
The newly formed National Freedom Party has given tickets to many such professionals. Former TV presenter Rabi Lamichane is the leader of the National Freedom Party.
Controversy also arose over Rabi's citizenship before the election.
Rabi had given up Nepalese citizenship and taken citizenship of some other country.
Now his detractors have accused the rabbi of not clarifying his position on resuming Nepalese citizenship. However, his party termed the controversy as baseless.
Rabi is contesting from Padampur constituency in Chitwan district. His party has given ticket to Dr. Toshima Karki from Lalitpur district. Many more such professionals have been fielded by this party.
Successive governments
Democracy was established in Nepal in 1990 and the monarchy was abolished in 2008.
There have been 32 governments in the 32 years since the establishment of democracy, and ten governments in the last fourteen years since 2008.
Changing coalitions and governments have created frustration with the political system among the Nepali people, and in response many new faces are in the field to compete with old politicians and present a new alternative.
Who's Who in the Industry
The main contest in Nepal elections is between two alliances.
The ruling coalition led by Prime Minister Sher Bahadur Deuba includes his party Nepali Congress, Communist Party of Nepal Maoist Center (CPN-MC) of Pushpa Kamal Dahal Prashanth and Communist Party of Nepal – United Socialist (CPN-US) of Madhav Kumar. ).
There is an opposition alliance led by former Prime Minister KP Sharma Oli that includes the Communist Party of Nepal – United Marxist (CPN-UML) and the pro-monarchy Rashtriya Prajatantra Party (RPP), which is contesting 150 seats under the FPTP. system
Older politicians have faced accusations of corruption and corruption. In such a scenario, many independent candidates and minor parties are also in the fray. The National Freedom Party is also challenging the old parties in many places.
What are the problems in the election?

Corruption and the current economic condition of the country are the biggest issues in Nepali elections.
The common people are fed up with the alleged corruption in the executive and judiciary.
Inflation and a weak economy have made life difficult for people. Many areas in Nepal still lack basic facilities like roads and electricity.
The current state of affairs has created a lot of discontent among the common people, especially the young voters. This is why there is a campaign going on in Nepal to ignore old leaders on social media.
Nepal's stance on global affairs is also an issue in the elections. The Nepali Prime Minister has also been criticized for siding with the US in the ongoing war between Russia and Ukraine.
At the same time, citizenship is a big issue in the Madesh region of Nepal. The Citizenship Bill has been passed by the Nepali Parliament, but the President is yet to sign it.
Citizenship in Nepal is a big question for Madhesi.
Mateshi has been demanding that people born in Nepal should get citizenship by birth. However, this issue is still not resolved.
In the election, both the alliances have been making their promises to grant citizenship to Madheshis.
At the same time, Indian elephants are also a problem in India's border areas.
According to a report by BBC Nepal, voters in Jappa district, bordering India, are demanding the removal of encroaching Indian elephants from polling leaders.
Speaking to BBC Nepal, many locals said they live in fear of sleepless nights due to the intrusion of elephants. Elephants are also accused of destroying crops.
Election Eye of India
India is also monitoring the Nepali elections. India has always had strong ties with its northern neighbor Nepal, but these ties have softened in recent years.
Former Prime Minister KP Sharma Oli has promised to add Libulek, Kalabani and Limbyadhara to Nepal. While Nepal staked its claim on these areas during the previous government of KP Sharma Oli, India considers them part of its Uttarakhand province.
When Nepal changed its constitution in 2015, India severed ties with Nepal. Nepal depends on imports for most of its needs, a large part of which goes through India. Nepal had to face difficulties due to India's economic embargo.
The tension between the two countries that started in 2018 over the land dispute (Libulek, Kalabani and Limbiadara) has not fully subsided.
China's growing influence in Nepal is also a matter of concern for India. This is the reason why India is closely watching the politics of Nepal.
"Evil zombie enthusiast. Unapologetic foodaholic. Friend of animals everywhere. Reader. Devoted bacon practitioner."