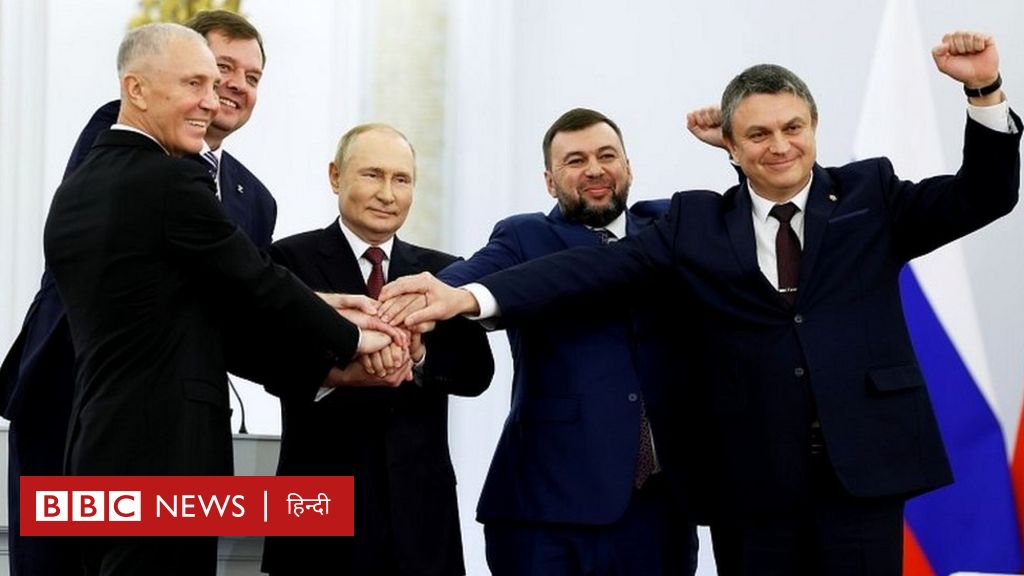 Russian President Vladimir Putin has signed documents on the annexation of four new Ukrainian regions to Russia, and made a speech at a ceremony in Moscow. In the next few days, the process of formally adding these regions to Russia will also begin.
Similarly, in 2014, Russia also annexed Ukraine's Crimea peninsula. This area is still under Russian control.
Russian military officers and leaders applauded as Putin signed the acquisition documents in the Kremlin.
Announcing the annexation of Ukraine to the Kremlin, Putin said that the people had chosen their will and that the people's will was to make these regions part of Russia.
With the announcement at St. George's Hall in the Kremlin, Russia has officially annexed Ukraine's Donetsk, Luhansk, Kherson and Soborizia regions.
The plebiscite in which Russia annexed these territories was deemed illegal by the United Nations and most of the international world.
Ukraine has called for an end to its military operations and talks with Russia. Putin also said that there will be no negotiations on the newly captured territories. Meanwhile, Ukraine has said it will continue to fight to liberate its territories.
President Putin, in an address to Russia's top politicians and military officials, said that Russia would defend these new territories to the best of its ability. He said that Russia will take steps to strengthen security in these new areas.
Zelensky's answer
Meanwhile, Ukrainian President Volodymyr Zelenskyy has said he will push for NATO membership as soon as possible. He made the announcement after Putin annexed four regions of Ukraine.
In a Telegram message, Zelensky said, "We have already demonstrated our compatibility with the Alliance's standards. We are taking a decisive step by signing the request for expedited NATO membership."
Ukraine also posted a video of Zelensky's statement on social media.
When Russia sent its troops into Ukraine in February, it had previously demanded that Ukraine be legally barred from joining NATO.
NATO is a US-led military alliance that includes countries in Europe.
Citizens of Russia forever
Putin said that people living in these areas would be citizens of Russia forever.
Putin said that Kief and Westerners should hear that the people living in the Donbass region are going to become Russian citizens forever.
He said that the government of Ukraine should fully respect this benefit of the people. Russia will do everything to protect the people living in the region, rebuild the ruined towns and villages, and improve education and health facilities.
Putin said that security here will be strengthened so that everyone living here feels that they are part of a great motherland.
Blame the West
In his speech, Putin accused the West of violating the treaty and turning against Russia, saying the West sees Russian culture as a threat.
Putin also said that Western countries this week also attacked the Nord Stream pipeline, which carries gas from Russia to Europe.
In an Anglo-Saxon speech to the British public, Putin said they helped blow up the pipelines in the Balkans.
Putin has also criticized NATO's expansion, calling the US military "barbaric".
Putin said Russia is not responsible for Europe's energy crisis. He said the energy crisis was caused by wrong policies followed over the years.
After the war in Ukraine, gas supplies from Russia to Europe have been affected and Western countries are currently in a severe energy crisis, due to which inflation is rising in many countries, including Britain.
Putin criticized capitalism and said it was not the right way to meet people's needs.
Putin called the West greedy and they want Russia to be their colony. He said Western countries are waging a hybrid war against Russia.
Putin said, "They don't want to see us as a free society. They want to see us as a bunch of slaves. They don't need Russia, we need Russia."
Putin said the West has been trying to bring Russia to its knees since the fall of the Soviet Union.
He said that the West wanted to conquer Russia and destroy Russian culture based on their new currency and technological development.
Referring to Russia's minerals and other resources, Putin said he was "unsettled by such a rich country."
A message to families of soldiers
Before his speech, Putin also observed a moment of silence in honor of the war dead in Ukraine.
He said brave soldiers lost their lives in Russia's special military operation in Ukraine and they are heroes of Russia.
In his speech, Putin also delivered a message to the families of Russian soldiers who took part in the war in Ukraine.
"Today I would like to appeal to the soldiers participating in the special military operation. I would like to appeal to their wives and children to understand what we are fighting for and what we are fighting for," Putin said.
Last week, Putin announced the recruitment of 300,000 new soldiers. After this, there were strong protests in many provinces of Russia, including Dagestan. Thousands of anti-war protesters were arrested in Russia.
Reactions to Putin's Speech
Responding to Putin's speech, EU countries have been unanimous in their condemnation of Russia's occupation of large parts of Ukraine. European countries have also declared it illegal.
European countries have said in a joint statement that they will never recognize Russia's authority in these areas, and that Russia will endanger the security of the entire world.
Western countries have also expressed their support and commitment to Ukraine, saying that the threat of a nuclear attack by Russia will not diminish their intention to help Ukraine.
European Commission President Ursula van der Leyen said Putin's move would not change anything on the ground.
The US imposed new sanctions
US President Joe Biden has strongly criticized the announcement of the annexation of four regions of Ukraine to Russia. President Biden said, "The United States condemns the fraudulent attempt to annex the sovereign territories of Ukraine to Russia.
Russia violates international law, violates the United Nations Charter and does not respect peaceful nations."
"Such actions have no legitimacy. The United States will always respect Ukraine's international borders. We will continue to support Ukraine's efforts to recover these areas. We will support Ukraine diplomatically and militarily in this," he said. "
President Biden said the United States this week announced $1.1 billion in additional security assistance to Ukraine. President Biden Announces New Sanctions on Russia "In response to its claims of annexation of Ukrainian territory, the United States and its allies today are announcing new sanctions. They apply to individuals and organizations that provide political and economic support for illegal efforts. The
"We will try to mobilize the international community to hold Russia accountable. I hope Congress will approve legislation providing an additional $12 billion in aid to Ukraine."
"Evil zombie enthusiast. Unapologetic foodaholic. Friend of animals everywhere. Reader. Devoted bacon practitioner."