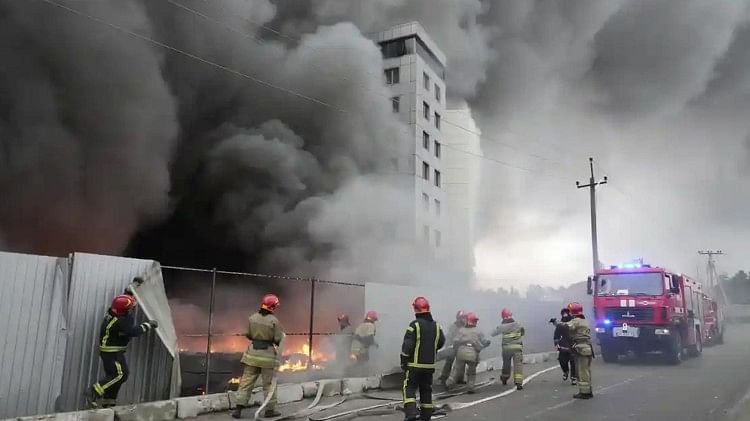 Afternoon 02:53, 14-March-2022
2500 Ukrainian civilians killed in Mariupol – report
Ukraine's Mariupol has been targeted by Russia for the past one week. One such report states that more than 2,500 civilians were killed in the Russian offensive in Ukraine.
02:44 pm, 14-March-2022
India can accept Russia's offer
In the midst of the Russo-Ukraine war, India is considering Russia's proposal. In fact, in the midst of Western sanctions, India offered to buy oil and other goods at concessional prices from Russia. According to the report, India is considering the project and can buy oil from Russia at concessional prices.
Afternoon 01:50, 14-March-2022
One person was killed in an attack on a residential building
One civilian has been killed in a Russian airstrike on a residential building in Kiev. Meanwhile, three people were reportedly injured in the attack. The building was completely damaged in the missile attack.


Afternoon 01:38, 14-March-2022
China has denied the US claim
China has denied US claims that Russia sought military and economic assistance from China. A Chinese Foreign Ministry spokesman said on Monday that this was a "propaganda" by the United States.
Afternoon 01:32, 14-March-2022
Putin obsession – America
In the midst of the Russia-Ukraine war, the United States has accused President Putin of making a major deal. The United States has said Putin thought he would capture Ukraine in two days. But, it's been over two weeks. The war did not work. At the same time, Putin is furious that the military strategy has completely failed.
Afternoon 01:29, 14-March-2022
Russia – Ukraine fourth round of talks today
The fourth round of talks between Ukraine and Russia is set to take place today. Earlier, representatives of the two countries met three times, but no consensus was reached on ending the war. In this case, the fourth round of talks will focus on building consensus between the two.

01:14 PM, 14-March-2022
Russia-Ukraine agreed to 10 humanitarian corridors
As the war between Russia and Ukraine continues, agreements have been reached on 10 humanitarian routes. Ukraine's Deputy Prime Minister has agreed to set up 10 humanitarian routes to evacuate people trapped in the war.
12:33 pm, 14-March-2022
Russian missiles strike Kiev residence
Attacks on Kiev have intensified from the Russian side. According to reports, Russian missiles hit a nine-story apartment building in Kiev on Monday. The apartment building was badly damaged in the attack and several floors were destroyed by fire.
11:41 am, 14-March-2022
The war raised concerns in the Middle East
The Ukraine-Russia war has alarmed Europe and the Middle East. These countries, which are directly dependent on Russia, cannot openly support it or stand with the Western powers. Middle Eastern countries fear that their relations with Russia will deteriorate and face further problems.
11:05 am, 14-March-2022
Now Russia will take action against US companies
In the aftermath of the invasion of Ukraine, the United States has continued to impose sanctions on Russia. As such, Russia has now decided to take action against US companies. Russia could seize assets of US companies, according to reports. Not only this, the officials of these companies can also be arrested.
09:49 AM, 14-Mar-2022
Australia bans 33 Russians
Australia bans 33 Russian businessmen and strategists These include Roman Abramovich, Gazprom CEO Alexey Miller and Rossia Bank chairman Dmitry Lebedev.
09:35 am, 14-March-2022
Additional trains will be operated to evacuate from war-affected areas
Additional trains will be operated to evacuate civilians from Kharkiv, Dinifro and other cities in Ukraine. According to reports, two trains will be available from Kharkiv and one from Dinibro.

08:22 AM, 14-Mar-2022
Instagram has been banned in Russia since today
Instagram has been banned in Russia since today. The move comes after Facebook changed its rules against Putin. Instagram says this is wrong. As a result, Russia's eight million people will be cut off from the rest of the world.
08:00 am, 14-March-2022
Russia seeks help from China
Russia, which has been fighting in Ukraine for the past 19 days, has reportedly sought military and financial assistance from China. The aid was sought from Russia at a time when China was under direct threat from the United States. In fact, the United States issued a warning to China on Sunday. Under this, it was said that if China offered to help Russia, which was facing sanctions, it would face dire consequences.
07:53 AM, 14-Mar-2022
So Russian rockets fall on NATO land – Zhelensky
On Sunday night a video message was released from the President of Ukraine Volodymyr Zhelensky. In it, he reiterated his call on NATO to declare Ukraine a no-fly zone. In addition, he warned that if you do not declare the skies of Ukraine as a no-fly zone, soon Russian rockets will fall on NATO land.

"Evil zombie enthusiast. Unapologetic foodaholic. Friend of animals everywhere. Reader. Devoted bacon practitioner."