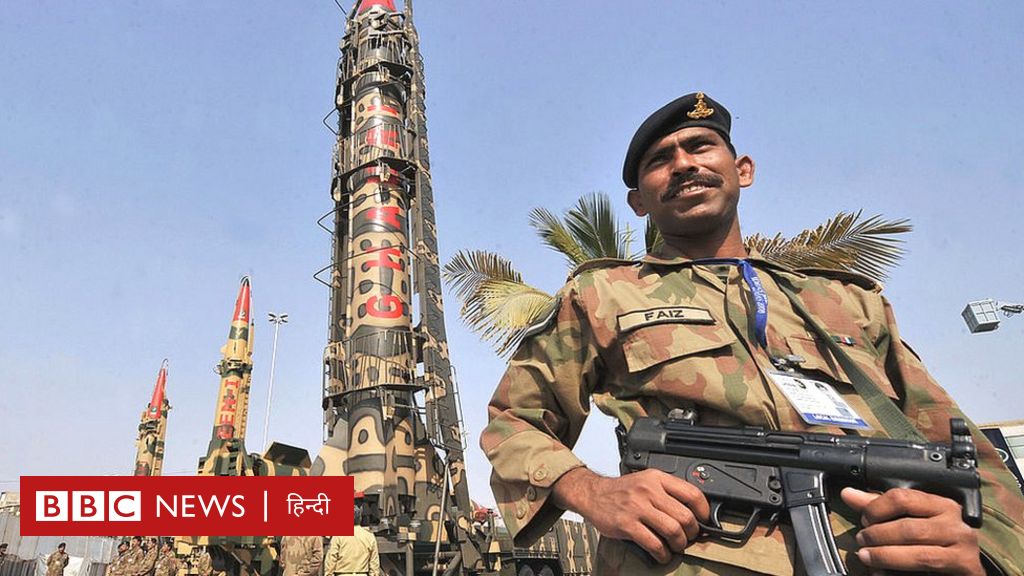 A top Pentagon intelligence official has said that Pakistan could increase its nuclear arsenal if it maintains India's nuclear and military capabilities. According to the official, Pakistan will continue to modernize and expand its nuclear capabilities.
Lt. Gen. Scott Barrier, director of the Defense Intelligence Agency Senate Armed Services Committee Told members
"Pakistan considers nuclear weapons as very important to its country, given the strength of India's nuclear weapons and conventional military forces," he said.
"Pakistan will modernize and expand its nuclear capabilities by 2022 with training and development of new distribution systems."
Commenting on the Pulwama attack, he said, "Pakistan's relations with India have deteriorated since the February 2019 attack on a CRPF convoy in Kashmir in which 40 soldiers were killed."
Barrier said there has been no significant progress in recent times regarding the permanent diplomatic decision between India and Pakistan.
In August 2019, India announced the withdrawal of the special status granted to Jammu and Kashmir under 370 and made it a Union Territory of Jammu and Kashmir. Pakistan, angered by the move, cut off diplomatic relations with India and expelled the Indian High Commissioner in Islamabad.
In addition, General Scott Barrier said that India wanted to use Russia's missile defense system (S-400) to protect itself from China and Pakistan.
According to General Barrier, "India received the initial shipment of the S-400 in December. India can implement this security arrangement by June 2022 to defend itself against China and Pakistan."
He said India was also developing hypersonic, ballistic and cruise missile programs and would conduct several tests in this direction by 2021. Apart from this, there are many Indian satellites in space that will enhance India's capabilities in space.
Barrier told lawmakers that India was moving fast in the comprehensive modernization of the air, land, naval and strategic nuclear forces. In addition, he focuses on the production of homeland security.
India is going to develop an integrated theater command, with the help of which it can further enhance the joint functioning of its three forces.
Since 2019, Prime Minister Narendra Modi has reduced his purchases of security from foreign suppliers by expanding his homeland security sector.
He said the long-standing security relationship between India and Russia was still strong.
While not taking any side in the ongoing war between Russia and Ukraine, India has not criticized Russia in any forum.
Under the embargo, India will continue to pursue one of its foreign policies by 2021 to establish itself as a major power in the Indian Ocean region.
Barrier added that the Taliban's return to power in Afghanistan has raised India's concern. In Afghanistan, the movement fears that it could increase the activities of Pakistan-based terrorist organizations such as Lashkar-e-Taiba and Jaish-e-Mohammed in India.
Meanwhile, US Secretary of State Anthony Blingen met with Pakistani Foreign Minister Bhutto Bhutto on Wednesday at the United Nations Headquarters. The talks between the two leaders focused on strengthening bilateral economic and trade ties with regional security.
Bhutto is making his first visit to the United States as Secretary of State to attend the United Nations' call for action on global food security "at the United Nations on Wednesday at the invitation of Anthony Blinken.
Who has how many nuclear weapons?
The Stockholm International Peace Research Institute (SIPRI), Sweden's think tank for 2021, released its annual report on Monday.
According to the report, this is the first time in the world since the end of the Cold War (1990) that nuclear weapons have been reduced.
The report also said that China and Pakistan, India's neighbors, are the largest producers of nuclear weapons.
India, which produced six new nuclear weapons last year, now has about 156 nuclear weapons.
Pakistan has produced five new nuclear weapons over the past year, and now has about 165.
China, which produced 30 new nuclear weapons more than last year, now has about 350 nuclear weapons.
Israel has 90 nuclear weapons and North Korea has 40-50 nuclear weapons.
North Korea has produced about 10 new nuclear weapons over the past year and currently has 40-50 nuclear weapons.
Russia has 5,977 nuclear weapons worldwide, according to the Confederation of American Scientists. 1,500 of these have expired or will soon be destroyed as they become obsolete.
China, France, Russia, the United States and the United Kingdom are among the 191 countries that have signed the Non-Proliferation Treaty.
Under this agreement, they must reduce the accumulation of nuclear weapons and eliminate it in principle altogether.
In the 1970s and 1980s, these countries made significant reductions in their arms numbers.
India, Israel and Pakistan have not signed the agreement. In 2003, North Korea withdrew from the agreement.
Of the nine nuclear powers in the world, Israel is the only one that has not formally told Russia that it has nuclear weapons.
But it is believed to contain nuclear weapons.
World arms imports
According to the Stockholm International Peace Research Institute (SIPRI), India's share of global arms imports was 15% between 2010 and 2014.
In addition, India was the largest importer of arms.
China, on the other hand, has overtaken France, Germany and Britain to become the world's third-largest arms exporter.
In 2005, India had set a target of producing 70 per cent of its weapons domestically, but this has only reached 35 to 40 per cent.
According to The Stockholm International Peace Research, global military spending is growing by 1.2 percent each year.
According to the report, the United States alone leads the world in military spending with a 43 percent share.
This is followed by four permanent members of the United Nations Security Council. Although the rest of the members did not even fly around the United States.
China is in second place with seven percent. This is followed by Britain, France and Russia at four per cent.
How much destruction is caused by nuclear weapons?
The purpose of nuclear weapons is maximum destruction. But the level of destruction depends on the following things –
How high it exploded from the ground
But even the smallest nuclear weapon can kill large numbers of people and affect future generations.
The United States dropped 15 kilotons of atomic bomb on Hiroshima, Japan during World War II.
Today's atomic bombs weigh up to a thousand kilotons.
Once such a large nuclear weapon is used, nothing is left around it as soon as it explodes.
During a nuclear explosion, an eye-catching fireball follows and destroys buildings and other structures several kilometers away.
"Evil zombie enthusiast. Unapologetic foodaholic. Friend of animals everywhere. Reader. Devoted bacon practitioner."