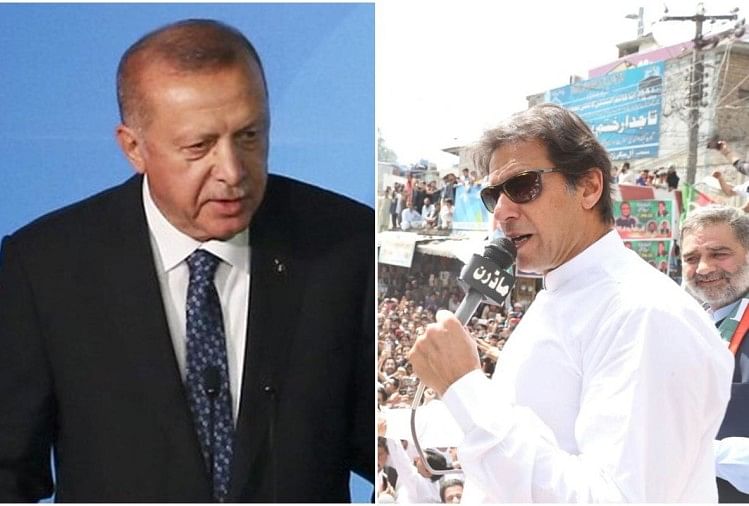 ANI, Rome
Posted by: Surendra Joshi
Updated Tuesday, 26 October 2021 08:18 PM IST
Summary
Turkish President Recep Tayyip Erdogan has been raising the Kashmir issue in other world forums, including the United Nations, but now he is avoiding it. Pakistan is also beginning to feel it.

Erdogan-Imran Khan (file photo)
– Photo: Twitter
Expansion
Relations between Pakistan and Turkey are not the same as before. Turkey has now softened its position on the Kashmir issue. The revenge of Turkish President Recep Tayyip Erdogan also disappoints Pakistan.
Erdogan did not mention Kashmir in the past in the presence of Pakistani President Imran Khan. At the same time, Erdogan did not send a message of condolence for the death of Pakistan-backed Kashmir leader Syed Ali Shah Gilani. Earlier, Erdogan raised the Kashmir issue at three meetings of the United Nations General Assembly. He always tried to show that Kashmir is an important issue for him and his country.
Sergio Restelli, a political adviser and expert at the Italian website InsideOver, says the Pakistani regime is disappointed that Turkey is not interested in the Kashmir issue. Turkish President Recep Tayyip Erdogan has shown restlessness on the Kashmir issue and has not taken any side with Pakistan.
Erdogan's priorities changed

Considering the problems of Uyghur Muslims and Rohingya in the Islamic world, Restelli said the Kashmir issue was no longer important to Erdogan. He walked softly to her. Kashmir is still an important issue for Pakistan. He is still trying to get Turkey to continue to support him on this issue.
At the same time, Turkey is involved in improving relations with Islamic countries, which have very good relations with India. Turkey has recently made efforts to improve relations with Egypt, the United Arab Emirates and Saudi Arabia.
"Evil zombie enthusiast. Unapologetic foodaholic. Friend of animals everywhere. Reader. Devoted bacon practitioner."