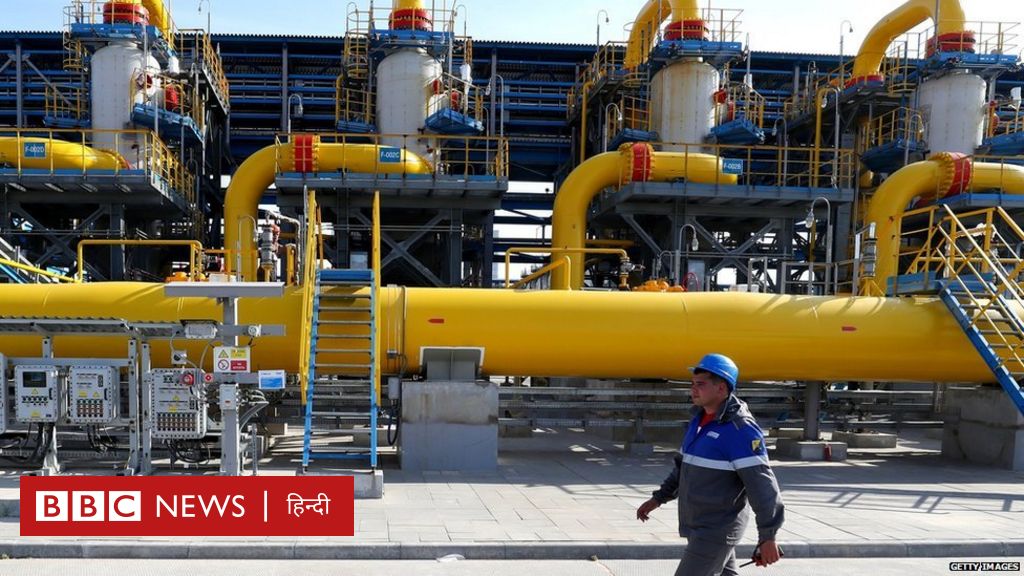 The project has come to light again after recent US warnings about the Nord Stream 2 gas pipeline.
The United States has said no plan has been reached between Russia and Germany.
At the same time, officials in Berlin said that the plan could be thwarted if Russia invaded Ukraine.
Western nations are trying to stop Russia's possible attacks on Ukraine.
In such a scenario, the $ 11 billion project has become the main weapon for bargaining. What exactly is this plan, and how important is it?
What is the North Stream 2 Case Pipeline?
The gas pipeline, about 1,200 km long, runs from western Russia to northeastern Germany via the Baltic Sea.
Through this project, the goal was to double the amount of natural gas going from Russia to Germany. Currently, gas from Russia to Germany passes through a North Stream pipeline built in 2012.
If the project is successful, the pipeline will supply 55 billion cubic meters of gas to Germany each year. The project is owned by the Russian state gas company 'Gosprom'.
Work on the pipeline was completed in September 2021. But Gasprom is still awaiting the approval of European regulators before resuming gas supplies.
Why so much controversy about it?
According to critics, the pipeline is a weapon of Russia's foreign policy. The United States, Ukraine and Poland have strongly opposed the plan.
The United States fears that the pipeline will make Europe dependent on Russia for its power. As a result, Russian President Vladimir Putin will dominate Germany and the European Union. Ukraine also wants to close the project.
Although Russia sends most of its gas to Europe via Ukraine, Nord Streams 1 and 2 do not pass through Ukraine.
This means that if the pipeline goes into operation, Ukraine will lose about $ 2 billion in "transportation costs". It receives this amount because of the gas that now passes through its area. Ukraine says it was punished for its good relations with Western countries.
Poland is not happy about boycotting gas shipments from Russia to Europe. He wants the pipeline to go through him.
Why is this project so important?
The North Stream 2 gas pipeline project has been postponed due to concerns over Russia's sanctions. Western nations will have to pay a heavy price for the attack with the help of this plan to pressure Russia not to invade Ukraine.
British Defense Secretary Ben Wallace has said the pipeline is a weapon that Western nations can use against Moscow. He said the pipeline was one of those weapons that would be useful in the recent crisis.
This pipeline is important for Russia because it allows gas directly to Europe without going to Ukraine. This will save on transportation costs to Ukraine.
Proponents of her case have been working to make the actual transcript of this statement available online. This will affect Russia's income, but Europe will not have to depend on Russia's energy.
What if it does not open?
Europe will face losses if this pipeline is not opened. Europe is already facing rising energy prices and a short supply of Russian gas.
Germany needed gas from this pipeline. This will help heat up 26 million homes in Germany and make it easier for Germany to switch to renewable energy.
German Finance Minister Robert Hebeck warned on Wednesday that "if sanctions are imposed, it will affect Germany's economy."
However, experts say that stopping the flow of gas from Russia to Europe via Ukraine poses great risks. Many countries have other options for gas distribution. For example, Germany can import gas from Norway, the Netherlands, the United Kingdom and Denmark.
However, Norway, the second-largest supplier of gas to Europe, says it is no longer difficult to supply natural gas to Europe. He said it could not compensate for the gas emitted from Russia.
On the other hand, the United States is also trying to find other options for supplying gas to Europe. Its attempt is to make a minimal impact on Europe if gas supplies from Russia are cut off.
But the challenges associated with natural gas transportation are no less.
"Evil zombie enthusiast. Unapologetic foodaholic. Friend of animals everywhere. Reader. Devoted bacon practitioner."