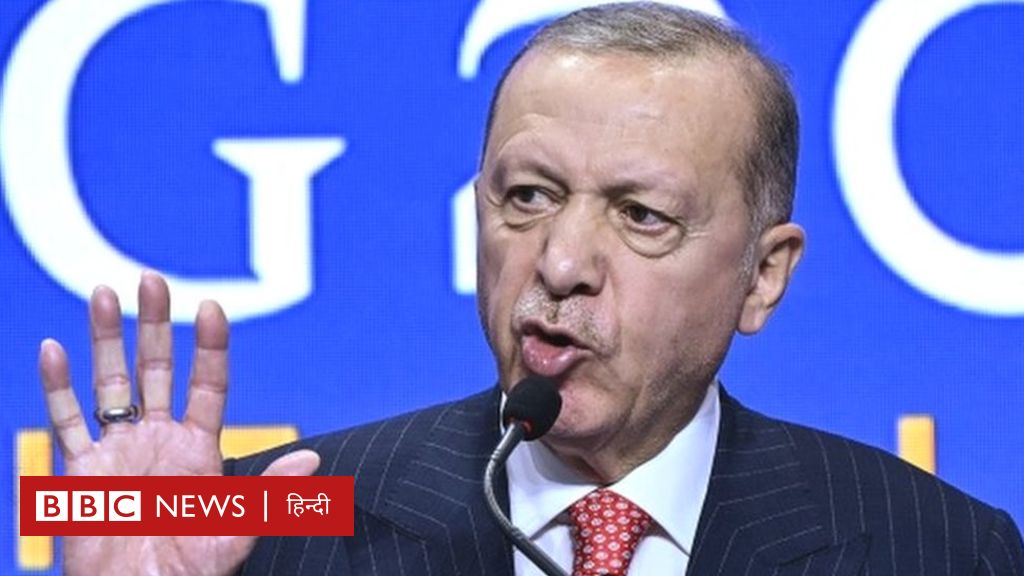 On the one hand, heads of state from around the world have gathered at the United Nations Climate Conference, and they are presenting a map of their country in dealing with climate change, on the other hand, Turkish President Recep Tayyip Erdogan has refused to attend. .
Turkish President Recep Tayyip Erdogan has cited "security reasons".
Reuters news agency quoted Turkey as saying that Britain had failed to meet its security demands by refusing to attend a conference in Glasgow on Monday.
More interestingly, on Saturday and Sunday last week, Turkish President Recep Tayyip Erdogan was in Rome for the G20 summit.
During this time he met with US President Joe Biden, who was scheduled to attend the ongoing COP26 conference in Glasgow, Scotland.
However, instead of reaching Glasgow, he returned to Turkey at midnight on Monday.
What Turkey said was the reason
The American newspaper Barrons wrote that on his return to Turkey, Erdoan told reporters that the organizers of the Glasgow event had failed to address the security concerns of his delegation.
Anatolia, Turkey's state – run news agency, quoted Erdogan as saying: "We have abandoned our intention to go to Glasgow because our demands have not been met."
"This is not only our own security, but also the honor of our country."
He said Turkey's standard ethics would be enforced during each international trip.
British Prime Minister Boris Johnson initially said the issue had been resolved, but Erdogan said "he came to us at the last minute and said there were many difficulties quoted by the Scottish side."
The Middle East Eye website quoted Turkish sources as saying that the organizers had determined the number of members of the delegation traveling with Erdogan.
Erdogan released a statement
Following the escalation of the conflict, Turkish President Recep Tayyip Erdogan issued a statement on Monday.
He said in a statement, "We have asked for some security measures there. We were told at the last minute that this could not be done.
"It cannot be accepted. After that we decided not to go to Glasgow. This (decision) is for the honor of our country. We are committed to safeguarding the interests of our people. We have shown that we can create it. Only the best world with an impartial attitude."
Reuters reports that a spokesman for British Prime Minister Johnson declined to comment on security arrangements, and that Scottish police did not comment.
However, a Turkish official later told Reuters that UK officials had failed to meet Turkey's security demands.
The official said the president made the decision because the number of vehicles for security and other security-related demands had not been met.
However, Johnson's spokesman told the news agency about the coal deal, "We would be happy if Erdogan personally attends, but it will continue."
Apart from the Turkish president, Chinese President Xi Jinping and Russian President Vladimir Putin did not attend the largest climate change meeting in Glasgow.
Despite China being the largest emitter of greenhouse gases, Russia is the world's third largest oil producer.
What is Turkey doing about climate change?
Last month, the Turkish parliament ratified the 2015 Paris Climate Agreement and was the last country to join the G20.
Turkey put the deal on hold for several years. He said Turkey should not be included in the category of developed country as it would reduce funding for carbon dioxide. It also said that Turkey has historically contributed little to carbon emissions.
Last week, Erdogan and Turkey signed a $ 3.2 billion memorandum of understanding to help achieve the clean energy goals set out under the Paris Agreement.
At the same time, Erdogan is emphasizing environmental issues in the run-up to the next general election in the next two years. But on the other hand, he also takes on his key Western allies.
The meeting between Erdogan and Biden in Rome was set to be canceled after Erdogan threatened to expel 10 Western diplomats last month.
In fact, the ambassadors of these countries issued a joint statement in support of the imprisoned civil society leaders.
However, Erdogan later relented when he issued a public statement confirming that these embassies would not interfere in Turkey's internal affairs.
A senior official in the administration of US President Joe Biden said that Biden had made clear (to Erdogan) his desire to seek a constructive relationship with Turkey and that it would do so while looking for a way to resolve their differences.
Relations between Turkey and the United States have always been unstable. Relations between the two countries have soured since Turkey agreed to buy air defense systems from Russia and the United States has backed Kurdish militants in Syria.
"Evil zombie enthusiast. Unapologetic foodaholic. Friend of animals everywhere. Reader. Devoted bacon practitioner."